ECONOMIC STIMULUS OF OTIA III BRIDGES: CONSTRUCTION WORKERS AND WAGES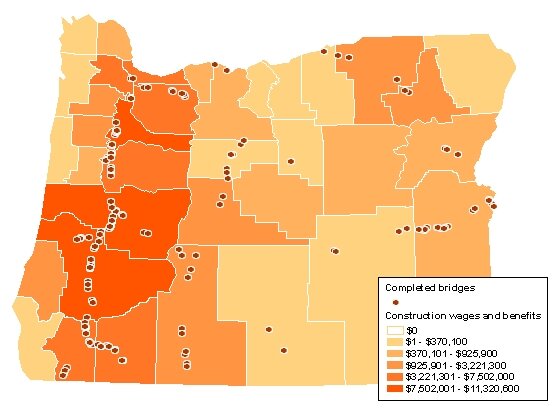 Construction workers—primarily Oregonians employed by Oregon contractors—earned more than $57.8 million in total wages and benefits on the OTIA III State Bridge Delivery Program through October 2009.
Income from family-wage jobs in construction and related industries helps stimulate Oregon's economy. Based on the 2009 Economic Stimulus report, heavy-highway jobs pay middle-class wages of approximately $36,000 to $83,000 per year. Workers' paychecks have a "multiplier" effect, meaning the dollars make their way through the local economy many times.
A change in ODOT's payroll reporting does not require a worker's home address, so wages and benefits can no longer be tracked by county. Move your mouse over the map to see the total number of workers employed through October 2009, the value of their wages and benefits, and the economic stimulus resulting from the multiplier effect.