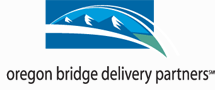 Providing program management for the Oregon Department of Transportation's
OTIA III State Bridge Delivery Program
OTIA III STATE BRIDGE DELIVERY PROGRAM
IN THE SPOTLIGHT

QUICK LINKS

WHAT'S NEW
Updated Monthly Report and Dashboards

January 31, 2015
The OTIA III State Bridge Delivery Program Monthly Progress Report for December, 2014 has been published. The Program Dashboard and Projects Dashboard have been updated with new status information from the report.
Economic Success Interactive Map

August 15, 2011
The Economic Success page has been published. As of April 30, 2011, bridge program construction workers have brought home more than $57.8 million in total wages and benefits.
Updated Toolbox Safety Topic

December 29, 2014
The latest Oregon Bridge Delivery Partners Toolbox Safety Topic has been published.